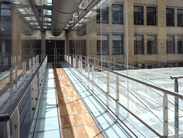 For designers and architects: Because of its ease of introducing insertions, it has revolutionized the décor sector in countries such as Belgium and France and it is making glass a star product in the area of interior and exterior design.
For glass laminators: Because of its versatility of handling and because it enables lamination at low pressure and low temperature without the need for autoclave, any laminator can use this product. On the other hand, it is possible to use it with autoclave so that large companies can also use it.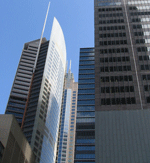 For construction: Its resistance to adverse conditions, its transparency, behavior in light and noise insulation characteristics make it an essential item in this sector. Today glass is used increasingly in floors, walls, ceilings, etc.
For its use with "tempered glass and special glasses of the LCD ssg Privalite type: The fluidity and low viscosity of EVASAFE when melting due to heat makes it exceptionally suitable for use with this type of glass.